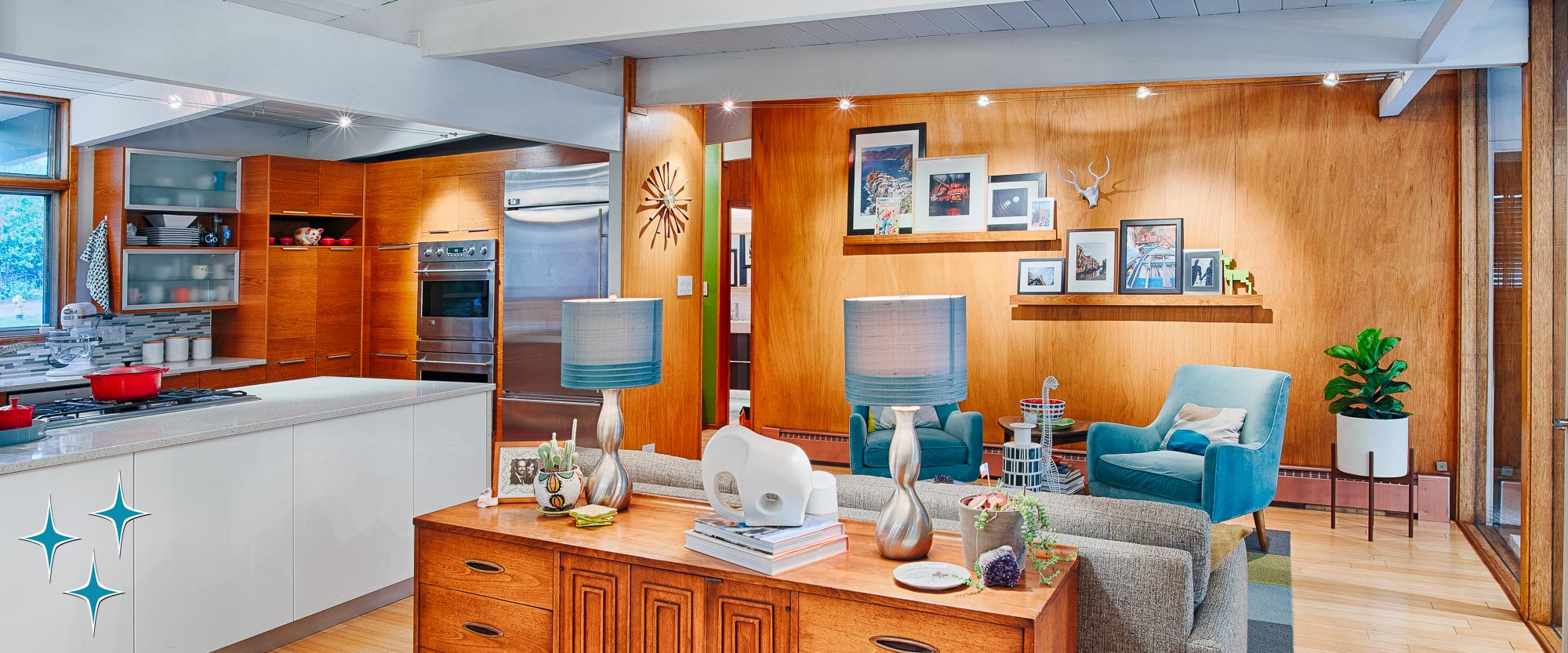 Open for admiration! Welcome to the Berkowitz House . . .
Designed in 1955 by the Denver architecture firm of Gratts & Warner, the Berkowitz House is a study in the philosophies of architect Frenchie Gratts. If the name doesn't sound familiar, it should. The homes in Denver's well-known Krisana Park and Lynwood neighborhoods were designed by Gratts. Those homes there were wildly popular in 1954-55, and are still highly sought after today! Although designing modern tract homes was a big part of Gratts & Warner's business, there are also custom homes around the Denver area credited to them, including the Borowitz House in Dahlia Acres.
Photos of this home appeared in the Spring 2019 issue/Renovation Guide of Atomic Ranch Magazine.
Design Characteristics
The design characteristics that define the homes in Krisana Park and Lynwood are all present in the Berkowitz House . . .
Post-and-beam construction, allowing for the elimination of load-bearing walls, which allowed for open planning and ample glass.

Deep roof overhang, protecting the house from the sun and elements.

Bringing the outdoors in using a glass wall at the back of the house.

Phillipine mahogany paneling, brining a natural richness to the interior walls.

Vertical plywood siding.
Larger and More Refined
The five characteristics above were the design features that Gratts felt were important in the design of a modern house, but closer inspection shows a few more things going on, bringing that custom level of architectural refinement:
Privacy was of great concern to Gratts. Although it's quite common in mid-century modern design to have walls of glass facing the street, Gratts avoided this, choosing instead to always place the walls of glass away from the street, even at the expense of street-appeal. This house follows that philosophy by having a wall of glass face the backyard, opening onto a visually protected lanai. Prior owners enclosed the lanai with a sunroom, providing more bright and open living space, without destroying the original indoor-outdoor connection.

A low-slope roof supported by exposed purlins and a tongue-and-groove roof deck. Fans of mid-century modern architecture agree that there is nothing more beautiful than exposed structure in a modern house. This house is a perfect example of that. Prior to being enclosed by the sunroom, an 8'+ deep overhang prevented direct sunlight into the living room's wall of glass during the summer.

Plywood siding is accented by brick, and in integrated native stone planter in front of the house.

Glass gables, other clerestory windows, and transoms above the original windows bring in natural light, even when the shades are drawn.

In the Media Room, or what the architects originally called the Activity Room, there is original wood wall paneling, anchored by matching original cabinetry. This, along with the matching paneling and wood veneer doors through much of the house are such a rare and special find.

The original garage was converted by prior owners into a large master bedroom with ensuite bath and large walk-in closet, laundry room, and a large storage room. A new 2-car garage was then added to the front of the house.

Although the kitchen is not original, the most recent kitchen renovation was carefully crafted to compliment the house.
Exceptional, warm, and open modern architecture on a spacious lot in the quiet, yet centrally located enclave of Dahlia Acres . . . this is your dream home!
4920 E Vassar Lane is an exception 1950s rambler designed by architect Frenchie Gratts
Home features:
2,600 square feet.

3 bedrooms, 3 bathrooms

0.4 acre lot

Unincorporated Arapahoe County, yet very centrally located, plus, Cherry Creek Schools!

Originally designed by Frenchie Gratts of the Denver firm Gratts & Warner.

Open floor plan with private indoor-outdoor connection, and clear division between living and sleeping areas. Great house for entertaining and living!

Private and cozy media room, separated from open living areas.

Preserved original wood paneling with matching wood veneer doors and some original cabinetry.

Exposed beams, vaulted tongue and groove ceilings with clerestory and transom windows.

Large lot in a quiet neighborhood, yet in the city! Large and open front yard with ample parking.

Large and private backyard with lawn, garden, concrete patio, deck, gas fire pit, and wooded areas providing visual privacy from neighbors.

Deep eaves that protect the house from sunlight and water.

Kitchen includes wood veneer/stainless steel European-style cabinets, GE Monogram appliances, under-counter microwave, under-counter wine fridge, and Bosch dishwasher.

Newer roof, boiler, and hot water heater. Hydronic baseboard radiators throughout make for consistent non-drying heat in the winter.

Spacious master suite with full ensuite bath and walk-in closet.

Insteon smart lighting.

Attached two-car garage.

Much more!
Photos of 4920 E Vassar Avenue